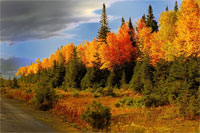 Viking Trail Fall Foliage
Photo by Hugh Rowlings
Fall is a great time
to visit and discover the Viking Trail. If you like the outdoors, the beautiful fall colours and the sounds of nature you will love this time of year.
Here are some things you can do in fall on the Viking Trail:
• Wildlife
• Hunting
• Hiking & Walking Trails
• Fall Foliage
• Nature Viewing
• Fishing
Contact the VTTA to learn more about great fall packages that are available with our partners here on the Viking Trail.