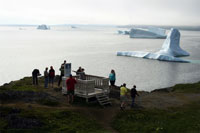 Goose Cove, Newfoundland
Photo by Glacier Cove Design Group
Magnificent icebergs can be seen along the Viking Trail typically May to July but often you can see them before and after these months.
The area from the northern tip of Labrador to the southern Grand Banks of Newfoundland is referred to as Iceberg Alley. The ice giants come in all shapes and sizes and are considered a major attraction for our area.
Did you know that approximately seven-eighths (7/8) of an iceberg's mass is below water? Read more interesting facts and information about icebergs below.