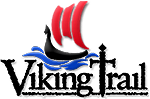 There are exciting things happening within our organization - as well as in our region. By being a VTTA Member, you can take advantage of our marketing partnerships. You can make a difference by getting involved in strengthening tourism within our region and province.
The VTTA continues to work with all levels of government, towns and organizations in the region to further develop and promote the Viking Trail.  Your membership support will help us in continuing this critical work right here in our region.
If you have something to offer VTTA Members from your business, please complete the VTTA Membership Benefits Form.
Click the PDF links below to view / print VTTA Membership Forms. If your computer device is not equipped with Adobe Reader, click here to download free Adobe Reader software to read or print PDF file.
Please submit completed applications, forms and fees via fax or mail to:

Viking Trail Tourism Association
Attention: Natasha Hynes
P.O. Box 251
St. Anthony, NL A0K 4TO
Fax: (709) 454-8899