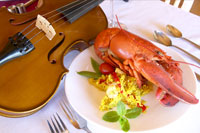 Discover the Atlantic Seafood Capital
The Viking Trail is rich in culture and heritage. Whatever area you decide to visit on your journey - you will definitely experience this first hand.
Northern Newfoundland has a great deal of unique culture for tourists to experience. Learn about Newfoundland traditions, music, dialect & food. Enjoy a traditional Sunday 'Jiggs Dinner'. For dessert, sample specialties made with Partridge Berries, Bakeapples, Crowberries, or Squashberries.
By all means, get yourself 'screeched-in'. This is a fun-filled ceremony, where 'come-from-aways' are inducted as official Newfoundlanders - usually in front of a large, cheering crowd of local residents. Warning - this ceremony involves Screech Rum & kissing a codfish on the lips.
Come and see why Newfoundland is known as the Seafood Capital of the Atlantic. Visitors quickly become addicted to our incredible Pan-Fried Cod. Try our local shrimp & scallops. There is also a variety of fresh lake fish served at many Newfoundland restaurants. If you are adventurous, sample a dish of 'Cod Tongues' (a Newfoundland delicacy). Try 'Fish & Brewis', made with fresh cod, bread-stuffing (Brewis) and pork 'scrunchions'. Atlantic Salmon is also served fresh throughout the region.
Our people live in small rural communities and many still make their livelihoods from the fishery. But our tourism industry is becoming more important to our communities than ever before. We truly have a unique culture, we have unique people and we have a unique tourism product to offer our visitors.
Come visit us - and experience it for yourself.