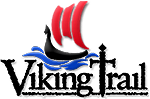 Welcome to the official website of the Viking Trail Tourism Association! We are very proud to call the Viking Trail our home and we welcome you to experience everything our region has to offer.
If you are looking for an area that has history & culture, natural scenic beauty, icebergs, whales, wildlife, great hiking & walking trails, the friendliest people in the world - look no further. The Viking Trail has all of this - and so much more to offer you.
Come visit and discover our region and when you return home, tell your family and friends about us.
Enjoy your Visit to the Viking Trail!

Desmond McDonald, President
---
Click any of the following links to learn more about the VTTA.
Board of Directors
Our Members
Our Vision
Our History
VTTA Constitution