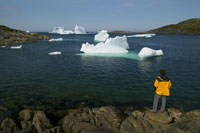 Icebergs in St. Julien's - French Shore
Photo by Rolf Hicker
Spring on the Viking Trail
is a great time to explore our region. It's the time of the year when the weather is getting nicer, the temperatures are warming up and people are on the move.
Here are some things you can see and do in spring on the Viking Trail.
• Hiking & Walking
• Festivals & Events
• Nature Viewing
• Icebergs
• Wildlife
• Fishing
Contact the VTTA to learn more about great spring packages that are available with our partners here on the Viking Trail.