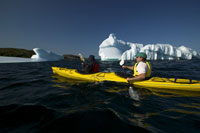 Summer Kayaking Tour
Photo by Rolf Hicker
Summer along the Viking Trail
is the perfect time to visit our region. The weather is at its best, communities are bustling with activity and there are lots of things to see and do.
Are you looking for culture, history, adventure and the friendliest people in the world? Look no further, and start planning your visit, all of this and so much more awaits you.
Here are some things you can experience on the Viking Trail in summer:
• Hiking & Walking Trails
• Festivals & Events
• Nature Viewing
• Icebergs
• Community Museums
• Great Restaurants
• Guided Tours
• Provincial Parks
• Ecological Reserves
• Craft Stores
• Wildlife
• Salmon & Trout Fishing
• Camping
Contact the VTTA to learn more about great summer packages that are available with our partners here on the Viking Trail.