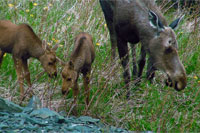 Mother Moose & Her Young Twins
Photo by Glacier Cove Design Group
During your travels on the Viking Trail, you can expect to see a variety of wildlife - so make sure to have your camera handy.
On any day, you might see moose, caribou, fox, ducks, geese, eagles and other migratory birds (just to name a few). You can also expect to experience some of the best Atlantic salmon and brook trout fishing in the province.
Our region contains some of the most unique wildlife in the world. Discover what the Viking Trail region offers those who explore this area.