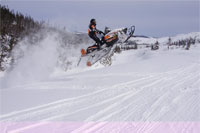 Discover Winter - Enjoy the Ride!
Photo courtesy of Fisherman's Landing Inn
Winter adventures await you!
The Viking Trail offers the outdoor enthusiast numerous winter experiences including some of the best snowmobiling opportunities east of the Rockies!
The Viking Trail offers unforgettable treks over ancient mountains, through untouched forests and along glacier-carved fjords. Whether you want groomed snowmobile trails for leisure riding - or if you are the adventurous type, we have plenty of powder and climbing hills waiting for your discovery.
Our snowmobile season often extends into the month of May. For more information on our snowmobile groomed trail network, visit the
Newfoundland & Labrador Snowmobile Federation
.
Here are some things you can do on the Viking Trail this winter:
• Snowmobiling on Groomed Trails - or Explore Back-Country Riding
• Ice-Fishing
• Snowshoeing
• Cross Country Skiing
• Winter Community Festivals
Contact the VTTA to learn more about great winter packages that are available with our partners here on the Viking Trail.